During the APEC Economic Leaders' Week in Danang, KinderWorld Education Group was honoured to welcome People's Committee Chairman and delegates of Hanoi, Quang Ninh and Quang Tri to Singapore International School @ Danang and Pegasus International College respectively on 7 and 8 November 2017.
Mr. Nguyen Duc Chung – Chairman of Hanoi People's Committee was pleased to note the progress of collaboration between KinderWorld and the capital city authorities and emphasized that they will continue to support to introduce suitable land sites for Singapore International School, Pegasus International University and Outward Bound Vietnam.
Mr. Nguyen Duc Chung – Chairman of Hanoi People's Committee and Mr. Ricky Tan – Chairman of KinderWorld Education Group at Pegasus International College, Danang, 7 November 2017
Chairman of Quang Ninh People's Committee – Mr. Nguyen Duc Long shared his impression of the training facility at Pegasus International College and suggested that KinderWorld duplicates this model in Quang Ninh to support the demand in Hospitality & Tourism Training.
KinderWorld shared with the Chairman that it looked forward to the establishment of the second campus of Outward Bound Vietnam on the 93ha landsite in Quang Ninh.
Chairman of Quang Tri's People Committee – Mr. Nguyen Duc Chinh pledged his support to the development of Outward Bound Vietnam in Quang Tri and the implementation of Pegasus International College "Recruit, Place & Train" programme in Hospitality & Tourism.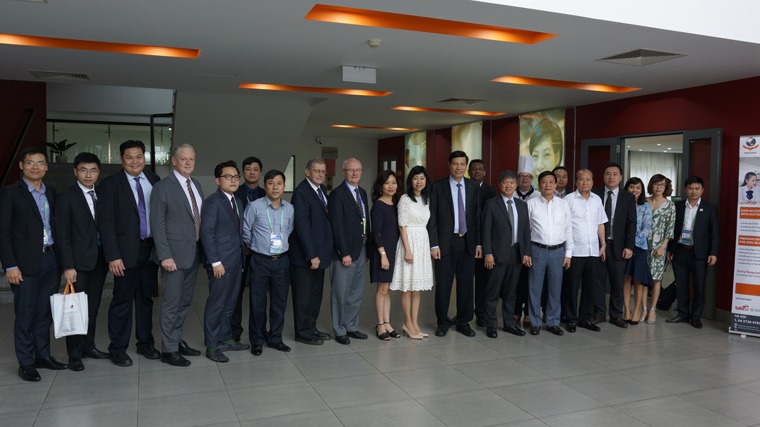 Mr. Nguyen Duc Long – Chairman of Quang Ninh People's Committee and KinderWorld leaders at Pegasus
International College, Danang, 8 November 2017