Asia Pacific Mathematical Olympiad for Primary Schools (APMOPS) 2012 is officially launched. The year 2012 is the fourth time KinderWorld International Group has co-hosted the Asia Pacific Mathematical Olympiad for Primary Schools (APMOPS) in Vietnam.
APMOPS is a prestigious mathematical competition which is annually organized by Hwa Chong Institution in Singapore for mathematically talented students of grade 6 and 7 in the Asia Pacific region. It attracts nearly 8,000 students from 14 countries every year.
In its first year in Vietnam in 2009, APMOPS attracted 330 students from big cities such as Ha Noi, Ho Chi Minh, Da Nang and Binh Duong. This number increased to 486 in 2010 and reached 581 in 2011. In APMOPS 2010, two Vietnamese students were ranked 11th and 12th across the whole region out of nearly 8,000 participants. In 2011, students from Vietnam also achieved great results: 13 Platinum Certificates, 16 Gold Certificates, 31 Silver Certificates and 57 Bronze Certificates.
APMOPS has two challenging rounds. The First Round is organized at campuses of Singapore International School of KinderWorld Education Group in Ha Noi, Da Nang, Vung Tau and Binh Duong on April 14th 2012. During this round, students will complete multiple choice questions about numbers, geometry, logical thinking and mathematics quizzes. The top ten students in each examination centre in the North (Ha Noi), the Central (Da Nang) and the South (Binh Duong and Vung Tau) will get special awards presented by KinderWorld Education Group. KinderWorld Education Group will also hold an Award Ceremony for students with the highest rankings after the First Round in May. Moreover, the highest-placed students from the First Round will be invited to participate in the Final Invitation Round in Singapore to compete with other mathematics geniuses from the Asia Pacific region.
Over the last three years, KinderWorld Education Group has sponsored 30 return air tickets for top students who were selected to take part in the Final Invitation Round in Singapore. This year, KinderWorld Education Group will continue to sponsor return air tickets for the most excellent students to participate in APMOPS Invitation Round in Singapore at the end of May 2012. During the Final Invitation Round, Hwa Chong Institution will sponsor all accommodation and travelling in Singapore as well as provide an exciting schedule of interesting events and experiences during the students' stay.
The high achievements of Vietnamese students in the past three APMOPS competitions have proved that students from Vietnam are able to match the mathematical standards of foreign students. As a foreign investor in education in Vietnam, KinderWorld Education Group has always aimed to become the link for Vietnamese talents to enter competition with international friends, so that the ranking of Vietnamese education will be improved. KinderWorld wishes all students the highest results in APMOPS competition this year.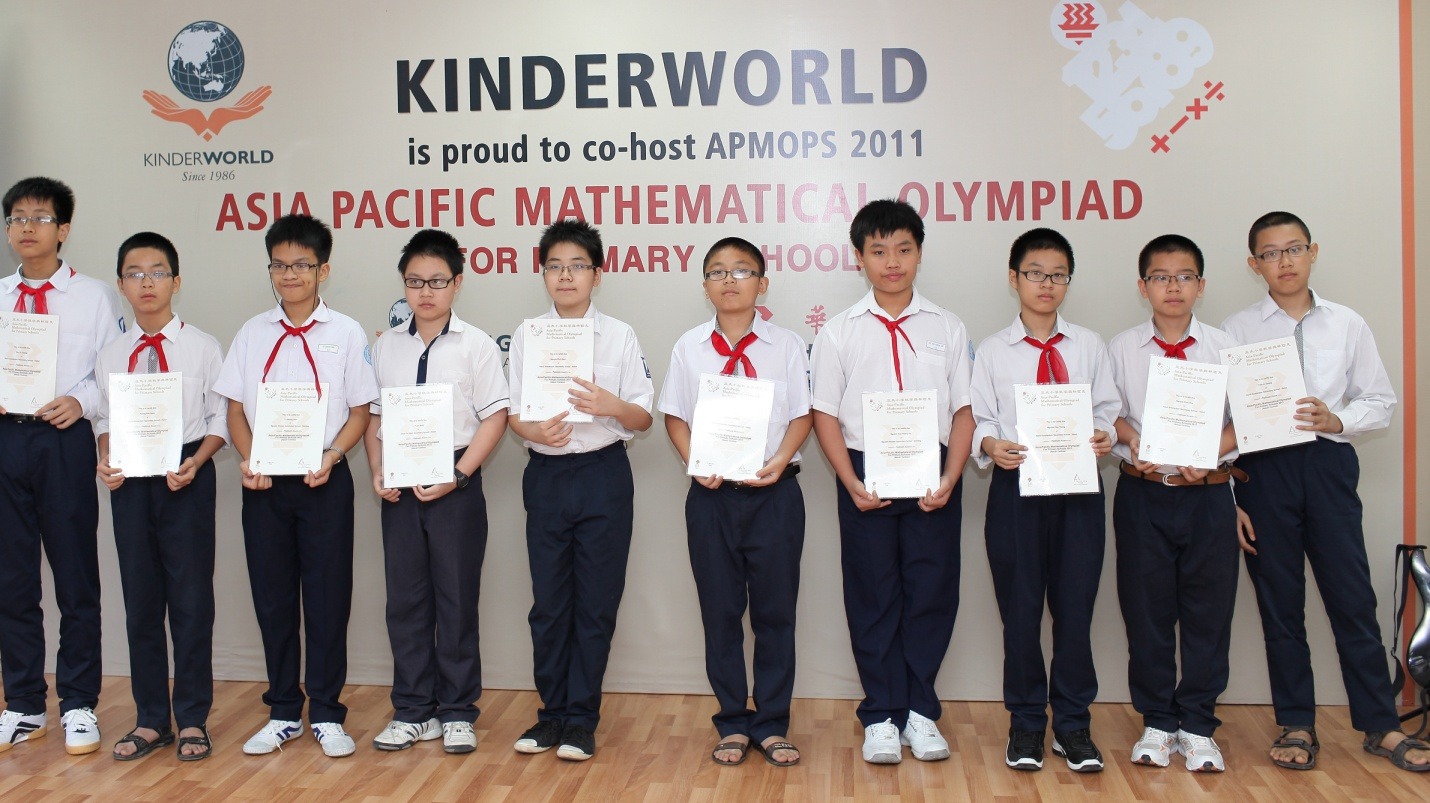 Top ten students in the First Round of APMOPS 2011