On 30th of March 2012, at Gamuda City a significant signing ceremony was organized for the Gamuda Land Vietnam and KinderWorld International Group Strategic Partnership Agreement to mark the establishment of SIS Super School at Gamuda Gardens.
The event was witnessed by the presence of His Excellency, Mr. Dato' Azmil Zabidi, Malaysian Ambassador to Vietnam, His Excellency, Mr. Ng Teck Hean, Singaporean Ambassador to Vietnam, other high-level government officials from Department of Planning and Investment, Ministry and Department of Education and Training, media and other representatives of the 2 companies.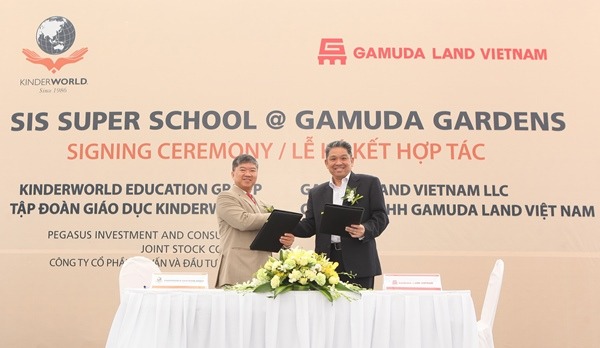 Mr. Cheong Ho Kuan – General Director of Gamuda Land Vietnam and
Mr.Ricky Tan – Chairman of KinderWorld Group exchanged a strategic partnership agreement
General Director of Gamuda Land Vietnam, Mr. Cheong Ho Kuan and Chairman of KinderWorld Group, Mr.Ricky Tan signed the agreement entitled "The project SIS Super School at Gamuda Gardens".  As scheduled, the SIS Super School at Gamuda Gardens is built on a 2.3 hectare land site for a super school model which is well-equipped with the latest state-of-the-art educational facilities and technologies. The school will accommodate 2,000 students at its full capacity and offer an integral study pathway from kindergarten to university foundation year. The phase one project is planned to build soon and the school schedules to commence its operation by August 2014.
Speaking during the signing ceremony, Mr. Cheong Ho Kuan said "We are delighted to witness the noteworthy milestone that commences the strategic cooperation between Gamuda Land Vietnam LLC and KinderWorld Group in terms of education, training and human development." He added, "we, Gamuda Land are Malaysian property developer for innovative, lifestyle and quality properties in Vietnam, while KinderWorld Group is expanding its Singaporean expertise in education and training for a comprehensive development of students. The SIS Super School at Gamuda Gardens represents our determination of developing a self-contained and modern township benefiting for not only Hanoi people but also for the whole community".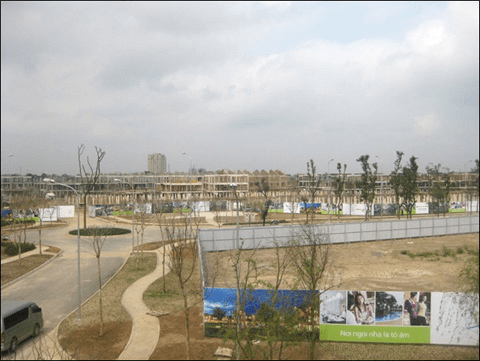 Overview of Gamuda Gardens site progress
In terms of macro vision, Mr. Ricky Tan shared his standpoint unanimously agreed by Singaporean and Malaysian Ambassadors that "2013 marks the 40th anniversary of Singapore – Vietnam, Malaysia – Vietnam diplomatic ties. With the ASEAN Economic Community goals of regional economic integration by 2015, KinderWorld – a Singaporean company with Gamuda Land – a Malaysian developer will further enhance the close relations of ASEAN members of Malaysia, Singapore and Vietnam".
On the same day, more than 6,000 parents and students from the kindergarten to high school level of KinderWorld Education Group enjoyed the biggest Spring Carnival co-organized by KinderWorld & Gamuda. For the first time, such a big KinderWorld Spring Carnival at Gamuda City featuring family-oriented concept was organized in a 320 ha large-scale recreational Yen So Park. Students and parents had a chance to immerse in numbers of games, activities, entertainment, merchandise and food outlets for a meaningful day of friendship and family celebration.
Gamuda Gardens – a 73 hectare self-contained lifestyle township, one of 2 main lifestyle township models of Gamuda City project, is nested in such a close proximity of Yen So Park and conveniently connected with business district within 12 minutes drive away. Under the concept of green space, Gamuda Gardens has high-density of trees, parks and gardens up to 49%. To date, it has been under phase 1 construction of which foundation has been completed. It is scheduled to hand over units to customers by early 2014. When finished, Gamuda Gardens will provide 2,000 modern units raging from villas, semi-detached and small-terraced houses and apartments.
(Vietnamnews.vn)