Our education services and corporate social responsibility (CSR) speak for themselves and are recognized and acknowledged by a range of industry awards.
Education Service Awards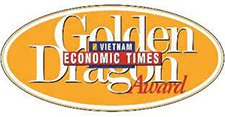 Golden Dragon Awards
KinderWorld Vietnam JSC has been awarded the Golden Dragon Award in 2008, 2010, 2012, 2014 and 2015 as a "Prestigious International School", and in 2021-2022 as a "Reliable Education Services". The Golden Dragon Awards was initiated by Vietnam Economic Times in cooperation with the Ministry of Planning and Investment in 2001 and has become an annual event dedicated to foreign-invested companies.  The Golden Dragon Award acknowledges efficient production activities, respect for business ethics and remarkable contributions to the national economy.

Business Excellence Awards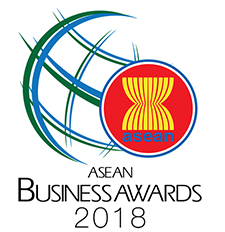 ASEAN Business Awards
KinderWorld has also been recognized multiple times at the annual ASEAN Business Awards, which serves as a platform to acknowledge outstanding commercial success and sustainable growth.
On 12 November 2018, at the ASEAN Business Awards 2018 Gala Dinner, KinderWorld International Group won the title as the Singapore Winner of SME Excellence – Growth Award, which were award to Companies whom have achieved outstanding commercial success and sustainable growth. In addition, winners should demonstrate initiative and a willingness to undertake bold new ventures and include evidence of sustainable growth and commercial success to levels that are outstanding for the size of the applicant's operations. KinderWorld International Group also emerged as the overall ASEAN Winner of SME Excellence – Growth amongst the respective country winners in this category. The Award was presented by the President of the Republic of Singapore, Madam Halimah Yacob.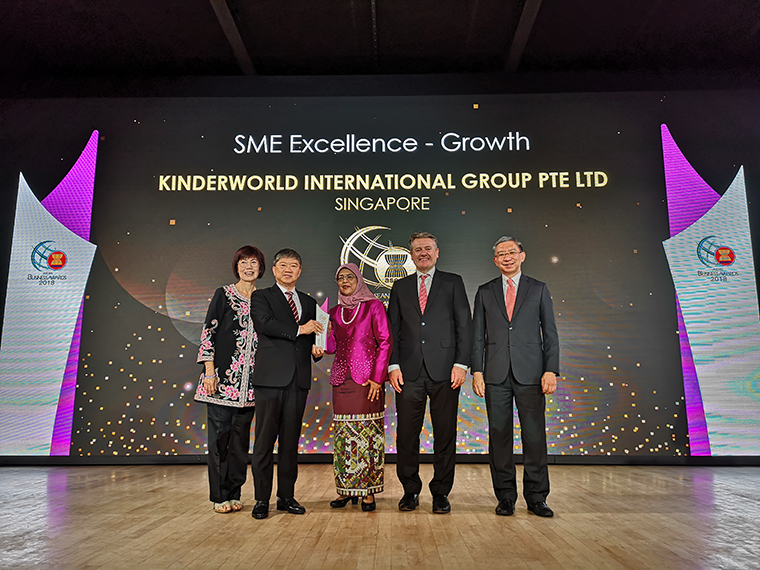 Subsequently in November 2020, KinderWorld Vietnam JSC was awarded the Large Enterprise Winner of ASEAN Business Awards (ABA) 2020 – Skills Development, bestowed by ASEAN Business Advisory Council. This award honours the company's significant contribution to human capital development in the country and the region.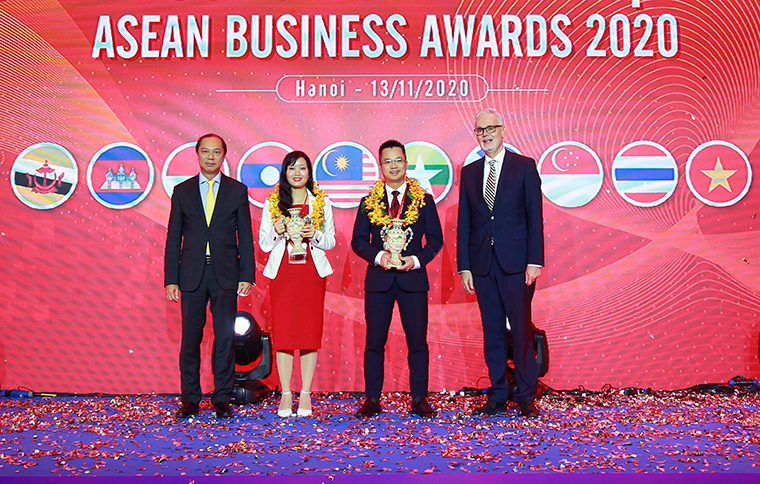 The ASEAN Business Council again recognizes our Group in 2021, with the Women Entrepreneur Award given to our Deputy Chairwoman & Chief Operating Officer, Mrs. Carol Tan. This award recognizes outstanding women entrepreneurs who have demonstrated success through leadership, market positioning, company performance and created significant benefits to the company.


Singapore Quality Class
In January 2020, our Company was awarded the Singapore Quality Class by Enterprise Singapore in recognition of commendable performance in business excellence. Our Group also received the Business Eminence Award – Gold from Dun & Bradstreet in April 2020 which recognise the best performing businesses, not only in growth and profitability but also in the track record of corporate governance and social responsibility.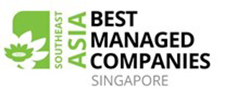 Best Managed Companies Singapore
In July 2021, KinderWorld International Group has become one of the inaugural winners of Best Managed Companies Singapore organized by Deloitte. Best Managed Companies is a leading business awards program, recognising excellence in privately-owned companies. Through the awards programme, Deloitte aims to share best practices, supporting company and sector growth, and building a community of the best private companies in Singapore and across the world.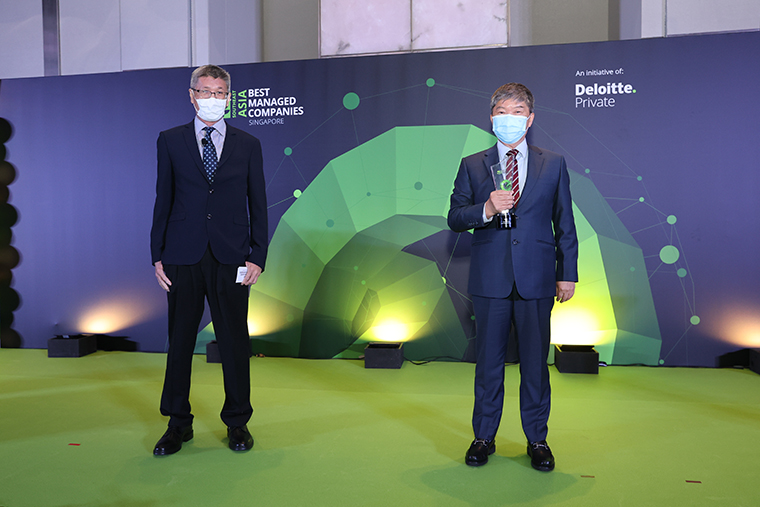 KinderWorld has once again been named a winner in Deloitte's Singapore Best Managed Companies 2022.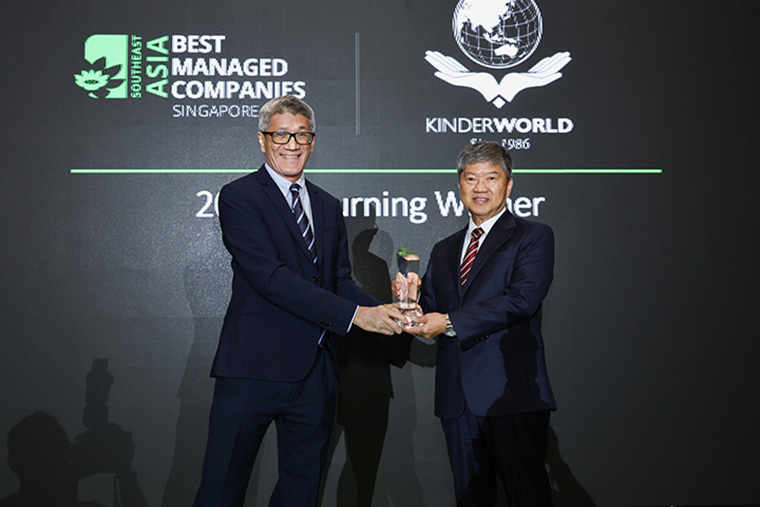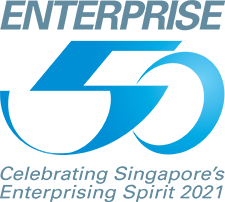 Enterprise 50 Singapore
In December 2021, KinderWorld International Group is ranked in the Top 5 Winners of the Enterprise 50 (E50) Award, co-organised by The Business Times and KPMG in Singapore. Established in 1995, the E50 Awards recognise top enterprises that have contributed to the economic development of Singapore, both locally and abroad.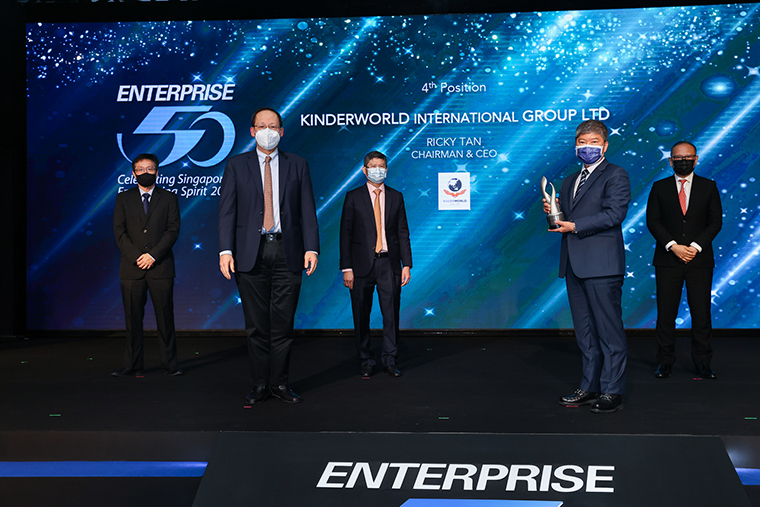 In 2022, KinderWorld is recognized as the returning winner for E50.


Corporate Social Responsibility Awards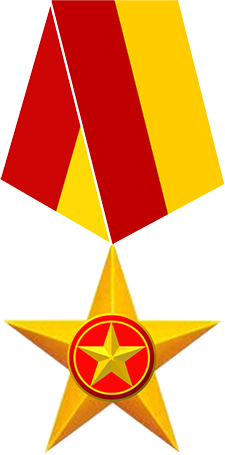 "For the Cause of the Capital City Development" Medal
As a socially responsible entrepreneur, Mr Tan Teck Yong, Chairman of KinderWorld International Group view contribution to the community as one of the fundamentals in our education investment journey. In June 2017, Mr Tan Teck Yong, was honoured with the "For the Cause of the Capital City Development" medal by the Hanoi People's Committee for his contributions to the development of Hanoi over the past eighteen years through a range of charitable activities and scholarships.


The Global CSR Awards
We are also multi-year winner of various Awards at the Global CSR Summit & Awards by The Pinnacle Group International. This is Asia's most prestigious awards programme for CSR, recognising and honouring companies for outstanding, innovative and world-class products, services, projects and programmes implemented.
In April 2018, KinderWorld International Group was awarded the Bronze Award in the category of Excellence in Provision of Literacy & Education Award (for companies with a market capitalisation of less than USD 1 billion).
In 2019, at the subsequent Global CSR Summit & Awards, Mr. Ricky Tan was given the Best CEO Award, which honours CEOs who have delivered significant corporate and financial results, and who possess strong leadership qualities and talent management strategies as well as a strong commitment to corporate social responsibility.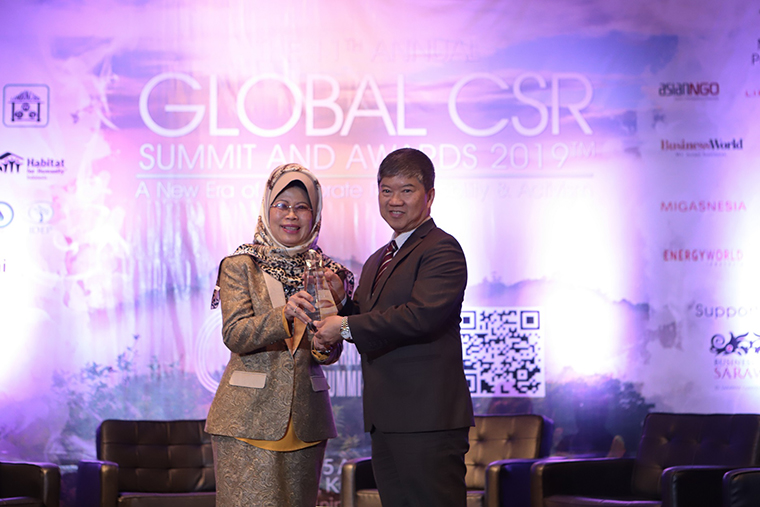 In September 2020, our Group was again recognised by The Pinnacle Group International with a Silver Award for Excellence in Provision of Literacy and Education and a Silver Award for Product Excellence.
In November 2021, KinderWorld International Group also obtained the Platinum Awards in Best Work Place Practices, Product Excellence Award and The Best Governed and Transparent Company Award.
In November 2022, KinderWorld International Group was awarded the Gold Award for Best Community Programme.
These awards reflect our goal towards a sustainable organization and our commitment to make positive changes to local as well as regional educational and social communities.