The 10th Global CSR Summit & Awards by Pinnacle 2018 – Bronze Award in the category of Excellence In Provision Of Literacy & Education Award (Companies with market capitalization less than USD 1 Billion).
1. Introduction
As a socially responsible enterprise, KinderWorld International Group regards contribution to the whole community as one of the fundamentals in our education investment journey.
CSR, by spreading KinderWorld's positive images and impacts, has contributed significantly to our corporate performance, with an increase from the first campus in 2000 to 15 campuses in 8 provinces in Vietnam, offering preschool to high school and university foundation. Over 18 years in Vietnam, we are glad to see how our CSR commitment has brought positive improvement in education to thousands of beneficiaries in the community.
2. Education Excellence
2.1. Scholarships for Disadvantaged Students
KinderWorld has been offering annual scholarships for underprivileged and talented students.
Since 2013, through annual Swing for Kids Charity Golf Tournament organized by Vietnam Investment Review and Ministry of Planning and Investment, we have sponsored 180 "Dreams to Reality" scholarships worth US$72,000 to train underprivileged students in the Australian Qualifications based hospitality programme at Pegasus International College. Students are well equipped with employability skills with practical training in 5-star-hotel simulated facilities.   Immediately upon graduation, many of them are able to obtain part-time jobs to support their families.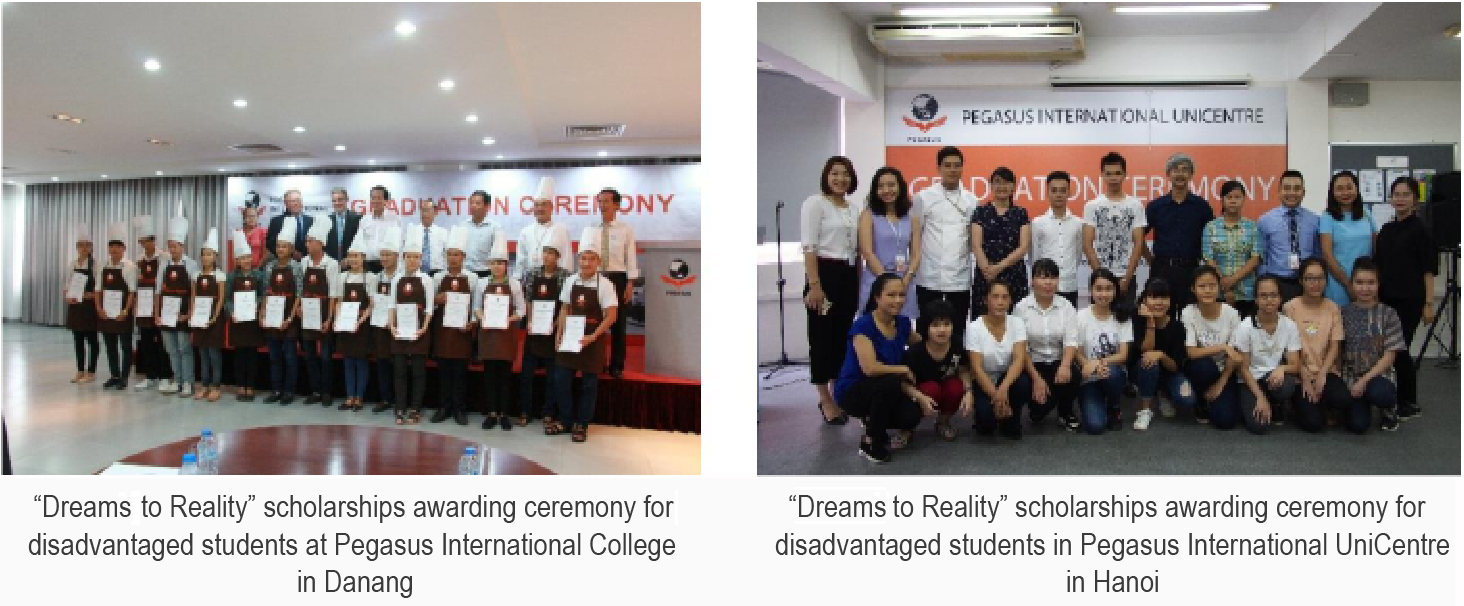 Reference:
http://www.vir.com.vn/kinderworld-and-vir-award-opportunity-to-disadvantaged-students.html
2.2. Youth Development
Since 2009, with support from Department of Education and Training, we have co-hosted the annual Asia-Pacific Mathematical Olympiad for Primary Schools with Hwa Chong Institution (Singapore). To date, over 80 Vietnamese students have received sponsorship of total US$29,000 to compete and learn from top students in Mathematics from Singapore and other Asia Pacific countries.

Reference:
https://en.vietnamplus.vn/vn-students-to-compete-in-regional-math-olympiad/28724.vnp
http://english.vov.vn/society/vietnam-takes-the-lead-in-apmops-2016-321159.vov
A new CSR initiative embraces student-art activities through sponsorship of US$4,400 for "A Bullet for My Valentine" – independent student-run musical shows that attracted over 1,000 audiences in Hanoi in 2017. The sponsorship aims to promote not only entrepreneurship, but also creativity and aesthetic values among young students.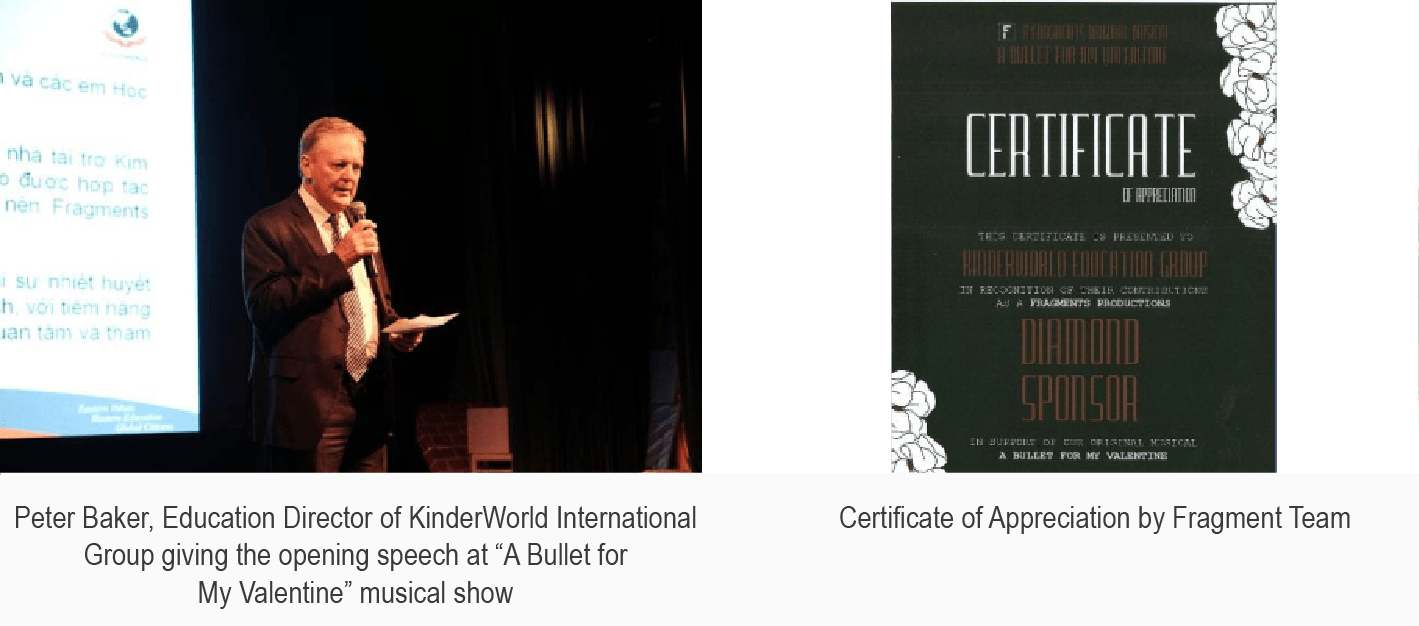 Reference:
http://www.vir.com.vn/student-staged-musical-resounding-success.html
https://www.facebook.com/fragmentsproductions/posts/293913027684438
 2.3. Education for Underprivileged Children
Our annual, Christmas Charity Fair is held at each KinderWorld campus with participation of thousands of staff, parents and students. Through these fairs since 2010, over US$66,000 has been donated to Operation Smile Charity Foundation, funding the cleft lip and cleft palate surgeries for over 200 underprivileged children throughout Vietnam, enabling them with a chance of education.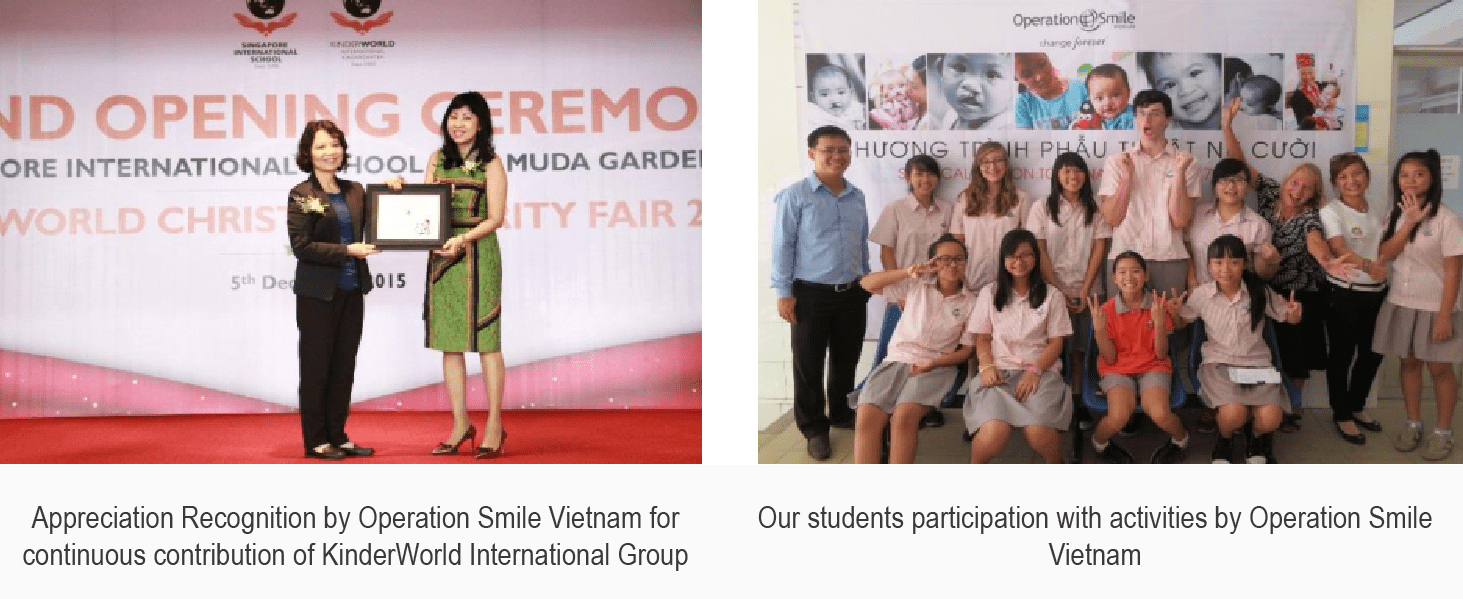 Reference:
http://www.vir.com.vn/a-kinder-world-from-kinderworld.html
Moreover, through various annual charitable activities, we have also donated books, warm clothing, notebooks, school equipment and cash worth US$30,900 to hundreds of orphans living in charity houses across Vietnam, victims of Haiyan Typhoon in 2013, Blue Dragon Charity Foundation, etc.
Reference:
http://vanphuc.sis.edu.vn/
http://saigonsouth.sis.edu.vn/wp-content/uploads/sites/2/Alumni-Newsletter-No-2-Updated.pdf
http://gamudagardens.sis.edu.vn/blue-dragon-foundation-field-trip/
2.4. Commitment to CSR
In June 2017, an MOU for international education investment was signed between KinderWorld Vietnam JSC and Hanoi People's Committee. The MOU has confirmed our commitment to offer scholarships worth US$200,000 through 400 training courses in English, Hospitality and Tourism and Outward Bound Programmes to government officers, hotelier representatives, underprivileged students and young adolescents in Hanoi.
Reference:
https://auschamvn.org/kinderworld-education-group-signs-mou-with-hanoi-peoples-committee/
http://www.vir.com.vn/singaporean-flagship-education-institution-signs-with-hanoi.html
3. Industry and Government Recognition
KinderWorld is grateful to receive recognition from industry and government. Since 2008, we have proudly received 5 Golden Dragon Awards from Vietnam Economic Times for "Prestigious International School". In June 2017, our Chairman, Mr. Ricky Tan, was the first foreign investor in education to receive "For The Cause of The Capital City Development" Medal by Hanoi People's Committee, for continuous contribution to Hanoi over the years.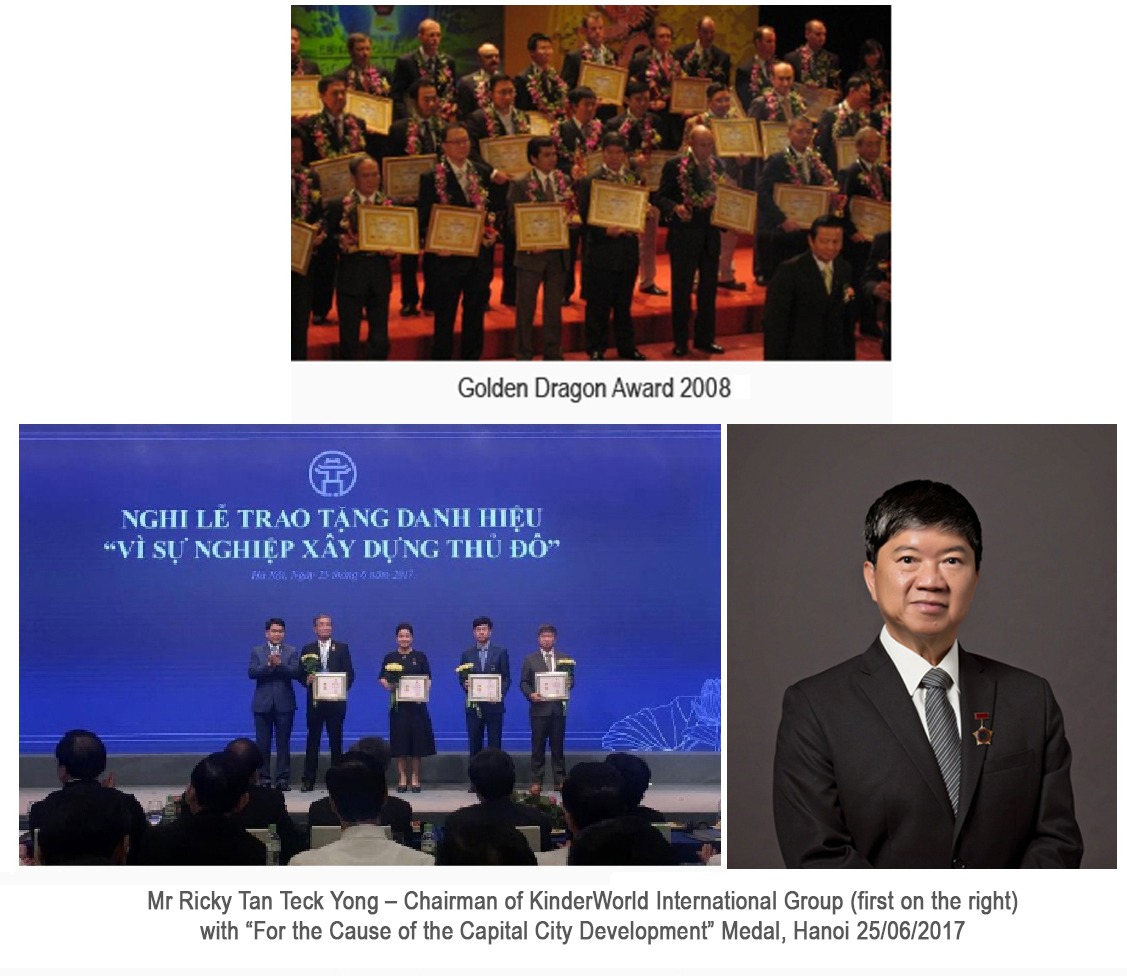 Reference:
http://english.thesaigontimes.vn/14963/Kinderworld-receives-Golden-Dragon-Award.html
http://vneconomictimes.com/article/enterprises/pegasus-providing-outstanding-education-and-training
This report highlights years of dedication in contribution to the community from KinderWorld stakeholders including Board of Management, staffs, teachers and students across Vietnam. It reflects our goal towards a sustainable organization and our determination to make positive changes to Vietnam's education and society.