Singapore International School (SIS) remains committed to continuously ensure the quality of its education programmes are always maintained through international quality assurance and accreditation benchmark standards. SIS is proud to announce the excellent academic achievements obtained by our students for the School Year 2013 – 2014.
 Cambridge Top in Vietnam Awards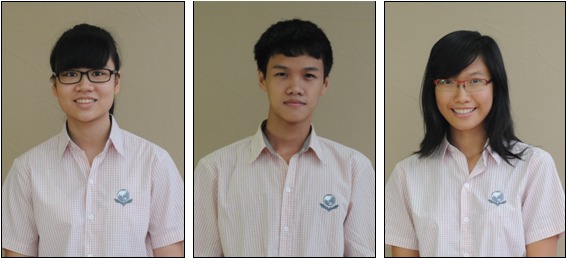 (From left): Nguyen Hoang Minh Anh, Recipient of Top in Vietnam award for IGCSE English – First Language and Global Perspectives; Bach Quoc Trung, Recipient of Top in Vietnam award for Mathematics, AS Level; and Dang My Linh, Recipient of Top in Vietnam, A Level Sociology
 SIS is proud to announce that three of our students, Nguyen Hoang Minh Anh, Bach Quoc Trung and Dang My Linh of SIS @ Cau Giay were conferred Top in Vietnam awards in the June 2014 Cambridge International Examinations. Every year, Cambridge International Examinations honour students for their outstanding academic achievements in the IGCSE, AS Level and A Level examinations. The award is presented to students who have gained the highest standard mark in Vietnam for a single subject.
Nguyen Hoang Minh Anh of SIS @ Cau Giay was the proud recipient of 6 A* in the Cambridge IGCSE. She obtained two Top in Vietnam awards for English – First Language and Global Perspectives. Reflecting on her SIS journey, Minh Anh said, "I have attended SIS for nine years, and the journey has been remarkable. I'm extremely grateful for the memories I've had here. SIS certainly played a role in preparing me for pursuing an education in Canada." Minh Anh is currently pursuing further studies in Canada, where she is hoping for a degree in Biochemistry at one of the universities there.
Bach Quoc Trung was the top scorer in Vietnam for AS Level Mathematics. Attributing his success to his Mathematics teacher, Mr. Ratzon, Quoc Trung remarked: "Mr Ratzon is a great teacher. He loves his subject and that really helps in teaching us. Studying at SIS certainly helped because teachers here know the programme so they can help students if any of them have any problems."
Dang My Linh was awarded the Top in Vietnam award for her A* in Cambridge A Level Sociology. Currently in London School of Economics pursuing a Bachelor's Degree in International Relations, we caught up with My Linh over email to inquire what played a key role in contributing to her success. She replied, "I really appreciate the support from my A Level teachers for the past two years. I couldn't thank the teachers enough; they were so encouraging and inspiring. As classes in SIS are small in terms of size, I could talk to them anytime I had a problem."
GAC Awards
The GAC (Global Assessment Certificate) is a University Foundation Program that prepares students for admission into more than 100 Pathway universities. In 2014, SIS achieved 100% completion rate of the Global Assessment Certificate (GAC), with the Graduating Class of 2014 receiving acceptance into universities around the world.
Nguyen Tran Minh Long from SIS @ Saigon South was awarded the GAC Dux Award for receiving a grade point average (GPA) of 3.6. He was awarded a scholarship to study Finance at Oregon State University in the United States.
Do Hoang Giang from SIS @ Cau Giay who also scored a GPA of 3.6, received a scholarship to study at British University Vietnam. When asked why he chose to study the GAC, Giang replied: "I think it provides a very concrete foundation. Although it lasts for only one year, it is packed with a lot of skills and knowledge to absorb. The main difference in the environment between SIS and other schools is the level of interpersonal interaction and skill development. Aside from simply overloading students with theories, students at SIS get opportunities for developing life skills through group tasks and more interactive activities."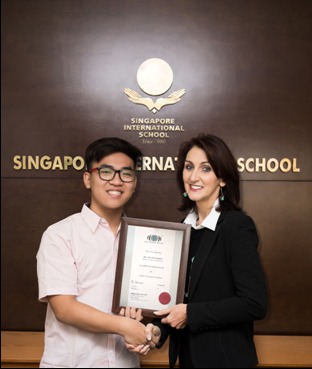 Do Hoang Giang with Ms Lorraine Els – Principal of SIS @ Cau Giay
iPSLE Awards
The Singapore International Primary School Examination (iPSLE) is the international version of Singapore's Primary School Leaving Examination (PSLE) and provides recognised certification of the knowledge and achievement that students have attained in English Language, Mathematics and Science.
Two SIS students, Tran Nguyen Nam Anh and Tran Quynh Anh, were awarded the Outstanding Subject Performance by the Singapore Examinations and Assessment Board (SEAB) for their academic achievements in Mathematics.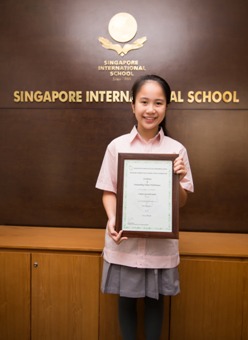 Tran Quynh Anh, Recipient of iPSLE Outstanding Subject Performance (Mathematics)
About Singapore International School
KinderWorld International Group, founded in 1986 in Singapore, operates fourteen (14) educational campuses under the brand names of Singapore International School (SIS), KinderWorld International Kindergarten (KIK) and Pegasus International UniCentre in Vietnam, providing education for students from Pre-Nursery to University Foundation Programme, Higher and Continuing Education throughout Vietnam covering two major cities of Hanoi and Hoi Chi Minh City and emerging markets of Da Nang, Vung Tau, Binh Duong and Nha Trang. SIS offers an International and Integrated Programme. The International Programme is based on curriculum content and skills by the Ministry of Education, Singapore and specialist programmes from around the world.
Secondary students take the Cambridge IGCSE (International General Certificate of Secondary Education) in the final secondary school years. Cambridge International AS and A Levels or GAC Programmes will be undertaken in the final year of High School study which provides access to many universities worldwide.
All SIS schools were granted Candidacy Status by the accrediting agency, the Schools Commission of the Western Association of Schools and Colleges (WASC). WASC is a world-renowned accrediting association and one of the six regional accrediting agencies in the United States recognized by the U.S. Secretary of Education.