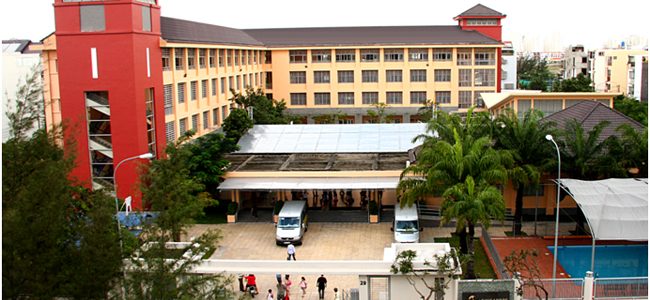 Founded in and operating since 2007, Singapore International School at Saigon South (SIS@SS) is one of 14 campuses under the KinderWorld International Group. Equipped with modern facilities and providing an international standard education while maintaining and nurturing Eastern values, SIS@SS has a reputation as a reliable school that parents trust.Students attending SIS@SS have choices of proven curriculum pathways that lead to university entry both in Vietnam and around the world.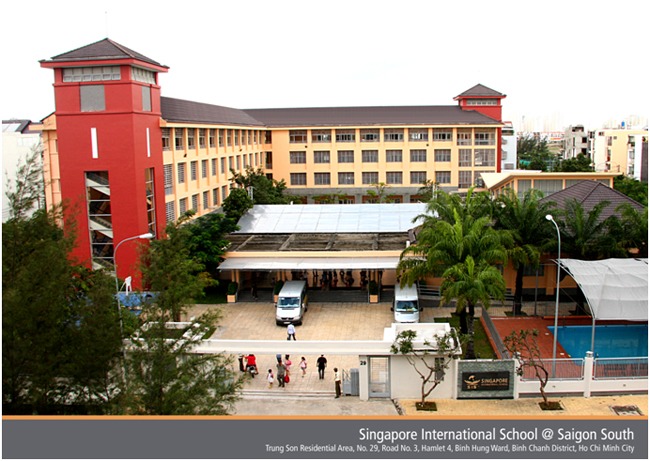 International Programmes
International programmes at SIS@SS include a Primary programme based on the Singapore and Australian curriculum; a Secondary programme which covers the Cambridge IGCSE (International General Certificate of Secondary Education); and a High School programme that provides a choice of a university foundation course, the Global Assessment Certificate (GAC) or the Cambridge International AS/A Level course.
The IGCSE is the world's most popular international qualification for 14-16 year olds. The IGCSE is provided by the University of Cambridge International Examinations and is recognized by universities and employers worldwide as a mark of quality signifying clear evidence of a student's ability.
AS/A Levels encourage a high academic standard through in-depth study and provide excellent preparation for university education. Offered in over 160 countries, Cambridge International AS and A Levels qualification are widely recognized and valued by the world's top universities.
The GAC is a University Preparation Programme that provides students with the academic knowledge, skills and confidence to successfully complete a Bachelor's Degree at one of many selected pathway universities. In addition, students are able to sit for the ACT (American College Test), the leading college entrance examination in the United State of America. The GAC allows students to apply for course credits at more than 100 universities in the world.
With a strong academic curriculum provided at SIS@SS, students will have the choice to study Bachelor courses in many countries in the world including the USA, Australia, UK, Canada, Indonesia, Malaysia and Singapore. Students also have the choice to study at RMIT in Vietnam.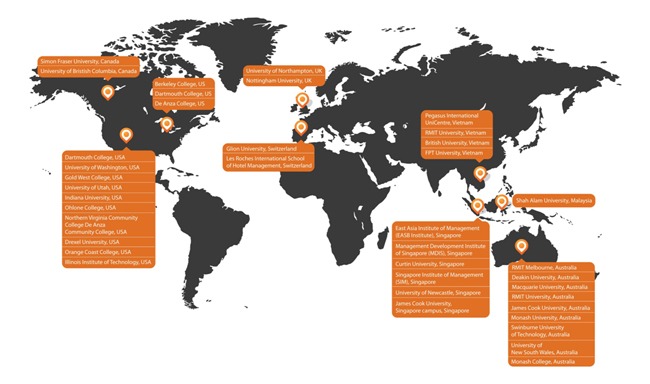 University destinations of SIS students
 Integrated Programme
SIS@SS provides a tailored academic programme for Vietnamese students that ensures the nurturing and maintenance of Vietnamese heritage and culture. The Integrated Programme provides the Vietnamese curriculum combined with a range of subjects from the International programme including English, Studies of Society and Environment (SOSE), Information & Communications Technology (ICT), Health & Physical Education (HPE) and The Arts. The international subjects are taught in English by qualified foreign teachers from Singapore International School. The Integrated Programme is a proven study pathway that ensures Vietnamese students develop a high level of English skills and prepares them academically to successfully study an advanced international curriculum and prepare for university entry.
Enhance Knowledge, Build Virtues
In addition to an advanced academic programme, students at Singapore International School@Saigon South enjoy studying in a multi-cultural school environment as well as participating in several major school events each year. These events include a school concert, a Christmas charity fair, inter-campus sports events and various competitions which provide SIS students with an opportunity to compete, celebrate, present and develop in a range of artistic, creative, sporting and community-focused charitable activities.
Singapore International School also implements a Virtues Programme to support the development of the whole student. Twenty virtues that underpin good character and guide young people to become socially just and responsible global citizens are taught throughout the school.
SIS@SS aspires to build young people of strong, ethical character and to ensure they have the academic foundation and essential soft skills such as team work, time management, research skills, presentation skills and problem-solving ability required by universities and employers around the world.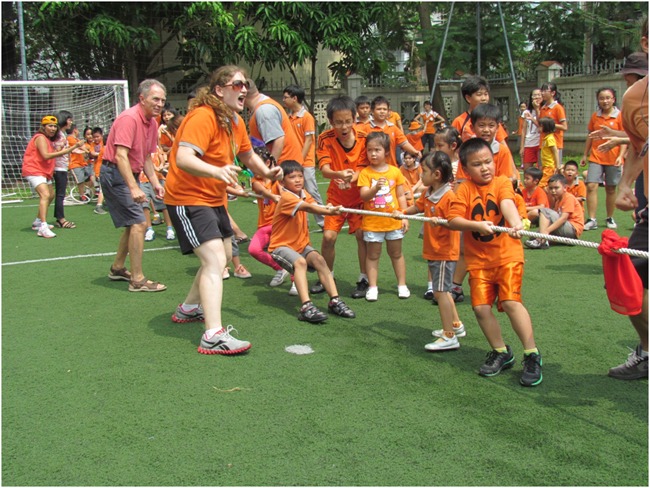 All together now. Pull!
Singapore International School@Saigon South is offering an attractive promotion program for new students
– 100% discount on the registration fee for new students who enroll before 30 June 2014 for the School Year 2014 – 2015
For more information about the above Promotion Programme, please feel free to contact our campus at:
Singapore International School at Saigon South
Address: No. 29, Road No. 3, Trung Son Residential Area, Binh Chanh District, Ho Chi Minh city
Tel: +84 8 5431 7477
Website: http://saigonsouth.sis.edu.vn/